InsureOne Community Hero: Patrick Brien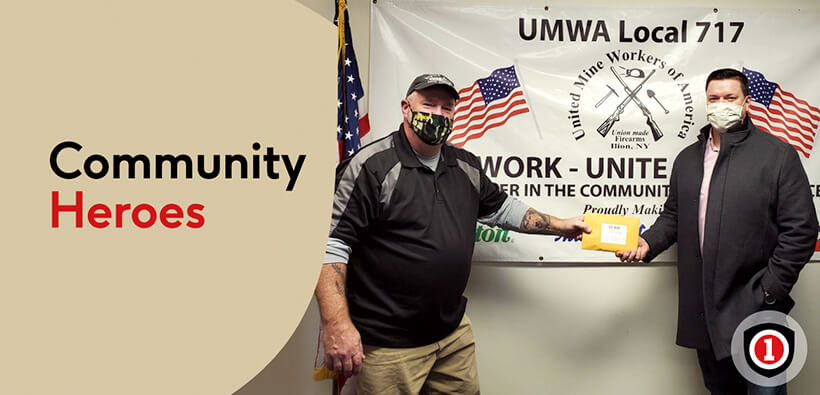 Remington. The legendary arms manufacturer is one of those iconic American brands. But in this era of manufacturing being shipped overseas and COVID-19 decimating the U.S. economy—amongst all of the restaurants and Main Street businesses that are out of business or on life support—even legends of American industry are struggling.
In October in Ilion, New York—where America's oldest arms manufacturer first started making guns in 1816—Remington terminated nearly 600 employees, sending shockwaves and heartbreak throughout the community.
"There's a saying that Ilion is Remington and Remington is Ilion, but in my opinion, it should be the Mohawk Valley is Remington and Remington is the Mohawk Valley," said Patrick Brien, Vice President of Sales NY & NJ of InsureOne of America. "These workers, they come from all over the valley and decided to stake their trust in old Remington and old Remington failed these workers."
The immediate impact of the layoffs went beyond what is often typical in modern-day, large-scale terminations.
"They are being told no health insurance, no benefits, nothing," Brien said. "Imagine being an employee, and five days before Halloween, 31 days before Thanksgiving, and 60 days prior to Christmas—you are told not only that your job no longer exists, but that you will have no benefits effective that same day. No money for a Halloween costume for your kids, no means to put a Thanksgiving dinner on the table and no resources to even begin to think about Christmas for your family. That is what some of these former Remington workers are faced with right now."
Brien's deep concerns permeate not only the entire Ilion community—a village of 8,000 people that is a three-hour drive from both Buffalo and New York City—but his local team at InsureOne.
After initially coordinating a $500 donation from InsureOne's parent company, Confie, Brien spoke with Jacquie Sweeney, the local representative of the United Mine Workers Association (UMWA) that represents Remington employees in Ilion for permission to organize donations for the laid-off workers.
Brien posted on Facebook about the effort and was overwhelmed when he received more than $14,000 in community donations. Then the local United Methodist District Church Association decided to join the fray, committing $6,000. And funds are still trickling in.
"Many of us have had family members or good friends who have worked at the plant over the years," added Brien, whose father worked at the Ilion plant for 33 years. and brother and sister were employed by Remington between college semesters. "It's because of them that food was put on the table for families, children were able to go on to college and earn degrees, small businesses were guaranteed a steady flow of customers. That is now gone and they need our help."