Get a quick rv insurance quote online
What is RV Insurance?
RV insurance protects your motorhome, camper, 5th wheel, campervan, or travel trailer. It is similar to car insurance, as it provides liability and comprehensive protection while you are driving your RV. RV insurance is also used for fifth-wheel insurance, campervan insurance, and motorhome insurance. Recreational vehicle insurance can be customized as there are plenty of add-ons to choose from so you can get the best RV insurance coverage that works for you.
How Does RV Insurance Work?
Recreational vehicle insurance protects you and your vehicle if you are ever in an accident that causes damage or bodily injury. It can also cover theft, animal collisions, roadside assistance, and towing. InsureOne provides affordable RV insurance, motorhome insurance, and travel trailer insurance.
Do I Need Motorhome Insurance?
Yes. Since recreational vehicles and motorhomes are driven, they are required to be insured.
Do I Need Travel Trailer Insurance?
A travel trailer is a towable RV. Since travel trailers are not driven, they are not required to be insured. But, you should insure travel trailers to protect yourself and your belongings.
What Does RV Insurance Cover?
RV insurance is similar to auto insurance in what is covered. Standard insurance usually includes liability, collision, and comprehensive coverage. You can add on protection for electronics and equipment. If your RV is your full-time residence, you can get coverage for that too
Full-Time RV Insurance
Full-time RV insurance is for those who use their RV as their primary residence. The insurance is similar to a homeowner's policy. Full-time RV insurance covers:
Personal belongings
Medical payments
Personal liability
And more!
If you have questions about full-time RV insurance, we can help. Contact InsureOne now for full-time motorhome insurance that is reliable and affordable.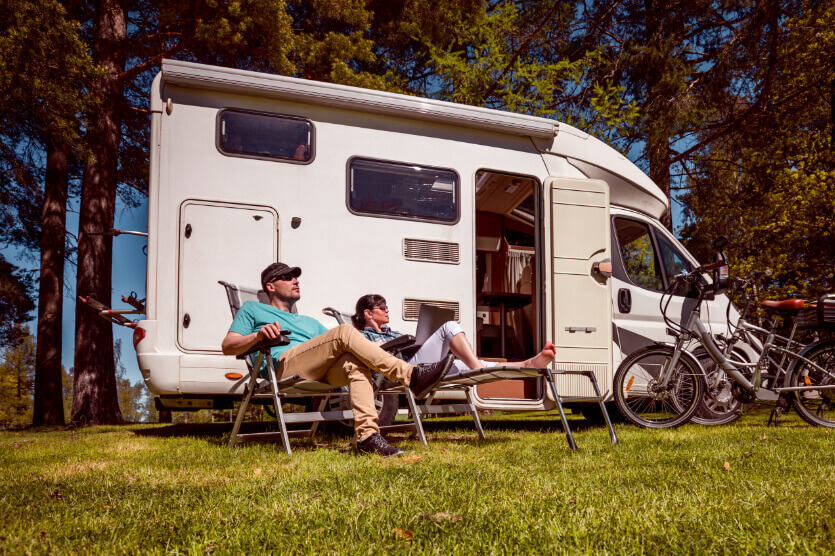 How Much Does RV Insurance Cost?
The cost of RV insurance varies. RV insurance costs are calculated based on several factors, including:
The class of motorhome
How much coverage you decide to get
Your driving history
Whether the RV is used for vacation or as a home
Any additional add-ons
RV Insurance Quote
If you are thinking about vacationing on the open road or using a motorhome as your primary residence, request a quote with InsureOne today online or by calling us at (800) 836-2240. Our experienced agents will ask you a few questions and start comparative shopping for you, so you don't have to. We work with the top carriers in the nation to get our customers affordable and dependable RV insurance. Go ahead and plan your vacation and let us do the hard work for you. Call now for your free RV insurance quote; you can also begin coverage today.