The Best, Safest, and Most Affordable Homeowners Insurance is at Your Fingertips
Get a quick homeowners insurance quote online
Comparing Home Insurance Quotes is Fast and Easy
The best homeowners insurance provides protection when you need it most. Your home safeguards you and your family; it's vitally important to find the best homeowners insurance to make sure that protection is always there. Your InsureOne home insurance provides superior coverage to help protect the things you love the most – at an affordable price with expert agents to help you craft the perfect policy for your situation. We do the work so you don't have to spend all day surfing websites. Tell us your needs, concerns and ask questions, and we'll  find flexible plans at a price you can afford.
For homeowners, insurance protection is an important part of homeownership. Buying home insurance means buying protection for your home, both inside and out, giving you peace of mind. InsureOne can help you find a homeowners insurance policy that fits your needs and budget. We compare home insurance quotes from top insurance companies to ensure you get the best coverage and low rates. There's no need to shop multiple companies in search of the best coverage because we do the work for you.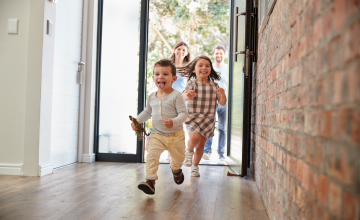 What is Home Insurance?
Home insurance helps you to pay for repairs to and even rebuilding your home if the unexpected occurs. Just like with other coverage policies, you pay a premium to an insurance carrier and, in return, you are promised financial help if you experience a covered loss.
There are different types of home coverage and different levels of coverage within those types. Your policy should be worth enough to pay for the rebuilding of your home if it is destroyed. Your policy should also pay for your possessions, temporary relocation expenses, liability expenses in certain instances and more.
Ready to Get a Quick Quote?
How Much is Homeowners Insurance?
The average American homeowner pays about $2,400 annually for their home insurance. Home insurance is calculated using a wide variety of individual factors, so your cost will be different. For example, if you live in a coastal region with a hurricane season, you may pay more for your policy than someone who lives in the middle of the country. However, tornadoes and wildfires may be more active in those states, which will influence premiums there.
Insurers look at the number of claims in a region, as well as other factors, especially how much it will cost to rebuild a home. Lumber prices and construction costs weigh heavily. It's important to do an honest assessment of how much your home is worth so you'll have enough financial help if you have to rebuild.
Why Do I Need Homeowners Insurance?
Homeowners insurance compensates you for losses to your home and possessions, so purchasing a home insurance policy provides added security for your investment. Homeowners insurance also protects you if you're legally liable for someone's injuries on your property or off, and also protects you from financial losses caused by storms, fire, theft and other events outlined in your policy.
Even if your home is paid for, you need home insurance to help pay to rebuild it if disaster strikes.
InsureOne offers competitive rates for homeowner property insurance policies. Our home insurance programs provide a safety net for you and your family when faced with events like theft, fire or floods. Our licensed, local insurance experts have decades of experience and can help you select the right coverage to protect your home and personal property.
What are Some of the Factors Used to Determine Home Insurance Cost?
Insurance companies use a variety of complicated algorithms to determine what to charge for a home insurance policy. If you have a mortgage, your lender will want enough coverage to pay for a total loss. If you own your home, you'll want the same so you can rebuild if necessary. Here are some of the factors that go into your policy cost.
Location
As we mentioned, houses located in areas where claims are common for natural events, such as hurricanes, tornadoes, wildfire will cost more to insure than homes located in areas where little to none of this activity occurs.
Claims History
Unfortunately, someone with a history of filing claims may face higher rates than someone who has no claims on record. To avoid this, many experts advise homeowners to pay for repairs themselves when possible and save their home insurance for major damage.
Risks
Similar to location, risks also include the condition and age of the property, as well as additions such as a pool
Deductible
As with all types of insurance, the amount of your deductible plays a part in the cost of your premium. A higher deductible means a lower payment since you are assuming more of the financial burden.
Ultimately, your home protection is meant to cover the cost of rebuilding your home in the worst-case scenario – or pay out enough for you to start over somewhere else. Major damage, such as a flooded kitchen due to a pipe burst, relocation expenses if you have to move out while your home is repaired, liability to help you fight a lawsuit or pay for medical costs if someone is injured on your property are also included in your policy. All of these things are taken into consideration when pricing your costs.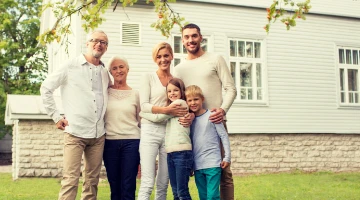 What Does Homeowners Insurance Cover?
Generally, a standard homeowners insurance policy protects the following up to your policy limits:
The physical structure of your home (includes damage to fixtures, such as plumbing, electrical wiring, heating and permanently installed air-conditioning systems).
Structures on your property (storage sheds, pools, boathouses, fences, freestanding garages, guest quarters, etc., not attached to your house).
Your personal property and belongings inside your home, car or storage unit.
Your liability or legal responsibility for any injuries or property damage you or your family members cause to other people.
Additional living expenses if a fire or other insured disaster leaves you temporarily unable to live in your home
How Can I Save Money on My Home Insurance?
InsureOne will show you how to find the best and most affordable coverage for your specific needs. We understand insurance is not a one-size-fits-all proposition. Besides taking the time to learn about you and how we can best help you, we'll offer ways to save some money.
Discounts on Home Insurance
There are several ways you can make use of InsureOne discounts.
Bundling or multi-policy: When you have more than one policy with us, we'll give you a discount of up to 15%. For example, bundle your home insurance and auto insurance for savings!
Customer loyalty: We like to reward our loyal customers. When people come back to us and renew year after year, it tells us we are doing something right.
Pay bill in full or use autopay: When you pay your bill upfront or use autopay for an automatic bank draft at renewal, you save us administrative costs. We are happy to pass those savings onto you!
There are more ways you can save, including choosing a higher deductible. This means you'll kick in more money if you file a claim, but you'll have a lower monthly or overall premium. Insurers also appreciate clients who take steps to improve the safety of their home by installing anti-theft features, removing dangerous items such as trampolines and using landscaping to clear the area closest to your home as a fire prevention method.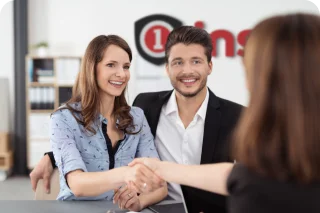 Find the Best Home Insurance Today
Getting insured by InsureOne is fast and easy. Request a free homeowners insurance quote online or by giving us a call at 800-836-2240 where you'll speak to a live agent who will provide you with a personalized quote. You are also welcome to stop in one of our convenient locations for a face-to-face meeting.