Get a quick boat insurance quote online
There is nothing more enjoyable or relaxing than hitting the open waters in your boat. Between the wind in your hair, the blue skies up above, and the rippling waves, boating provide an experience like nothing else. While most days on the water are perfect, mishaps occur from time to time. Don't let an accident destroy your enjoyment of the water. The right watercraft insurance policy will protect you, your boat, and your finances.
Get a boat insurance quote today, so you can have peace of mind, regardless of what you encounter on the open water.
Do You Need Boat Insurance?
There's a myth that you don't need boat insurance because you have a homeowner's insurance policy. Homeowner's insurance is not a replacement for the specialized coverage provided by PWC insurance. Most homeowner's insurance policies only offer basic liability and have size restrictions and even limitations on horsepower. If your boat meets the restrictions, you can still expect to pay lots of money if you are in a serious accident. Many boaters can't recover from the financial loss after an accident, so they leave their boating days behind.
Don't let that happen to you. Watercraft insurance can cover your boat and belongings. It can even protect you if you damage another watercraft. Your insurance policy will allow you to get back on the water again without experiencing financial fallout.
Boating isn't just a hobby. It's a way of life. Ensure you can continue enjoying this lifestyle by getting a free quote for PWC insurance today.
Which Types of Watercraft Can Be Insured?
PWC insurance covers various personal watercraft. You can cover:
Sailboats
Jet Skis
Cabin cruisers
Pontoons
Fishing boats
Center consoles
Powerboats
Whether you need sailboat insurance, coverage for your pontoon boat, or something else, we are here for you.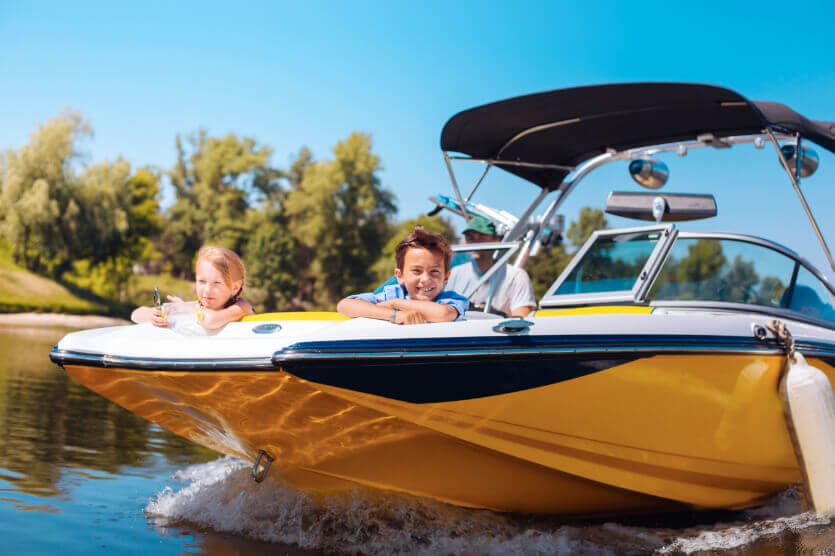 Boat Insurance Coverage
With our help, you will receive a boat insurance quote based on your individual needs. Your coverage can include:
Full replacement cost of your boat
Replacement cost for items in the boat
On-water towing
Wreckage removal
Fuel spills
Damage to another watercraft
Dock damage
Get a personalized quote for the coverage you need.
Save Money on Personal Watercraft Insurance
Your boat is a luxury item, but that doesn't mean you have to spend an exorbitant amount of money to insure it. Our licensed insurance agents will help you find the most affordable insurance for the coverage you need. While the policies are affordable, they still provide ample coverage to protect your boat, belongings, and finances, regardless of what occurs on the water.
You have control over how much you pay for your boat insurance, even if you get the best coverage available. You can reduce the cost of PWC insurance by:
Having a clean boating record
Taking a boat safety course
Insuring multiple watercraft under the same policy
Having a clean driving record
Learn more about saving money on boat insurance by calling a licensed insurance agent today.
How to Get a Quote for Boat Insurance
Our licensed insurance agents make it easy to get a quote for your watercraft. First, gather some information. You need the make and model of the watercraft, as well as its condition. Also, inventory the valuables you want to cover under the policy.  Don't forget about your expensive navigation system or your sound system. You will also need the names of everyone you want on the policy. For instance, you might want to include your spouse or adult children, so they can also enjoy using the boat.
Getting insured by InsureOne is fast and easy. Request a free boat insurance quote online or over the phone at 800-836-2240.