General Liability Insurance
Get a quick general liability insurance quote online
What is General Liability Insurance?
General liability insurance often referred to as business liability insurance protects your business from a variety of claims including:
Bodily injury
Property damage
Medical payments
Advertising injuries
General liability insurance is often bundled with property insurance in what is called a Business Owners Policy or BOP. Whether you're a contractor, consultant, or small business owner, InsureOne can help you get the general liability coverage your business needs.
Do I Need General Liability Insurance?
It is not required by law, but every business should have it. General liability coverage helps protect your business from financial losses due to lawsuits. According to courtstatistics.org, median costs for a business lawsuit start at $54,000 for a liability suit.
The top 10 costliest small business claims are: reputational harm ($50,000); vehicle accidents ($45,000); fire ($35,000); product liability ($35,000); customer injury or damage ($30,000); wind and hail damage ($26,000); customer slip and fall ($20,000); water and freezing damage ($17,000); struck by object ($10,000) and burglary and theft ($8,000), according to Insurance Journal.
It's important to consider business liability insurance, even if you are an independent contractor. Your business won't be protected without it.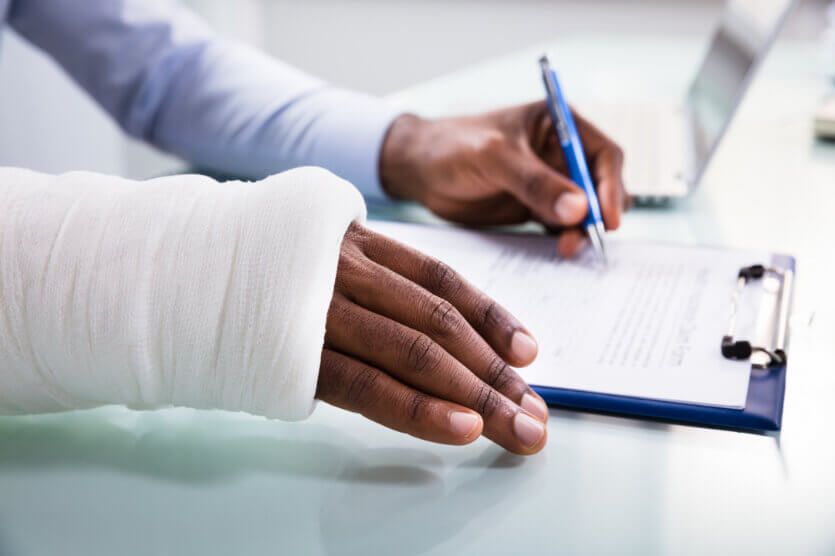 What Does General Liability Cover?
Commercial general liability insurance helps protect your business and employees from some of the most common lawsuits that arise from everyday business activities.
Business liability insurance helps provide coverage for:
Bodily injury (claims that your business caused someone bodily harm)
Property damage (claims that your business caused damage to someone's property)
Reputational harm (claims of libel, slander, wrongful eviction, and more)
Advertising injuries (claims alleging copyright infringement in your advertisements)
Medical payments (helps cover medical costs if someone is injured at your business)
Product Liability (if someone is harmed by a product you manufacture)
Damage to rented property (property you rent gets damaged by fire, lightning or explosion)
General Liability Insurance Does Not Cover:
Employee injuries (workers compensation covers this)
Employee discrimination (employment practices liability insurance)
Professional errors (professional liability insurance can help cover damages)
Damage to your business property (commercial property insurance covers damages)
Auto accidents (you need a commercial auto insurance policy)
How Much Does General Liability Insurance Cost?
The cost of general liability insurance is based on your specific business. Your liability insurance policy from InsureOne will be customized to meet the needs of your business. There are a variety of factors that are considered when calculating the premium including:
Business type
Location
Size
Years in business or the industry
Number of employees
Condition of the building
InsureOne provides reliable small business liability insurance. We work with you to provide insurance that you can trust and afford.
How Do I Get General Liability Insurance?
InsureOne has been providing insurance for small business owners for over 20 years. We provide general liability insurance and other small business insurance products. Let us help you protect your business. Request your quote online or call us today at (800) 836-2240 to speak with an experienced insurance agent who will provide a free general liability insurance quote that is customized to your business.