Workers' Compensation Insurance
Get a quick workers' compensation insurance quote online
What is Workers' Compensation?
Workers' compensation also known as workers' comp, or workman's comp, is a form of insurance that provides medical benefits and wage replacement to employees who become injured or ill on the job. It protects your employees and your business from work-related accidents and illnesses.
Workers' compensation insurance has two purposes: it protects employers from lawsuits by employees who are injured while working, and it assures that injured employees get medical care and compensation for loss of income.
Each state is different, therefore workers' compensation statutes vary by state.
Do I have to Buy Workers' Compensation Insurance?
Employers have a legal responsibility to make their workplace safe. Most states require businesses to have workers' compensation insurance, with the exception of Texas. In Texas, it is elective. If you have 1 (one) or more employees, you need workers' comp insurance. Not having workers' compensation insurance can put your business at high financial risk. In some states, you will be fined for breaking the law and you can be sued by employees for workplace injuries. An employee who receives workers' comp benefits can't sue your business for their injuries or their lost wages.
Sole proprietors are not required to purchase workers' compensation insurance.
How Do I Get Workers' Comp Insurance for My Business?
InsureOne can provide worker's compensation for your business. Let us do the hard work for you while you focus on your business. We do all the comparison shopping for you. We compare the rates from the top insurance providers to get you a free, customized quote for your business.
How Much is Workers' Comp Insurance?
The cost of workers' compensation insurance varies. There is no standard cost for workman's compensation because each business is different. There are a few factors that are considered when calculating the price of workers' comp insurance:
The type of work employees do and the risks that are involved
The state the company does business in
The size of payroll
How Does Workers' Compensation Work?
Employers pay the cost of workers' comp. Unlike health insurance, the cost of workman's comp is not shared with the employees. Every state has its own workers' compensation laws that employers must abide by.
Employees can only receive workers' comp benefits if the injury or illness occurs while working. Every business has its own set of protocols that employees should follow if they are injured at work.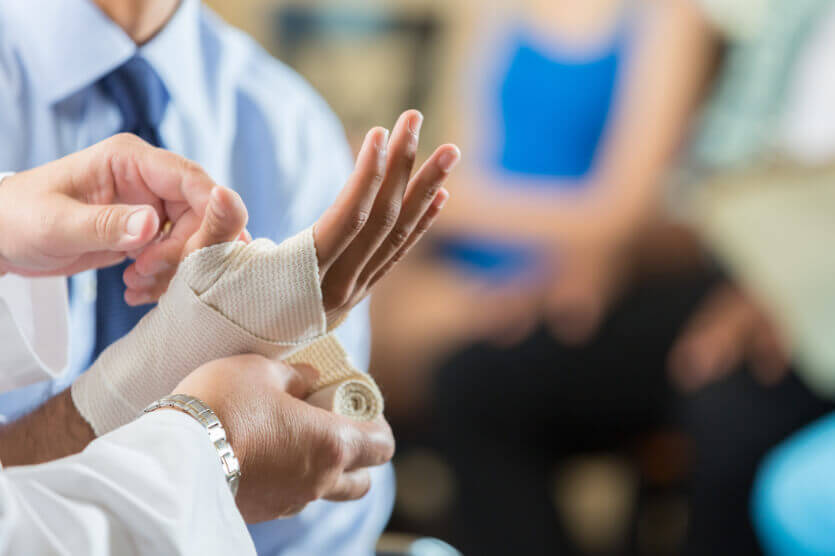 What Does Workers' Compensation Cover?
Employees who are injured on the job or become ill due to work conditions may be eligible for workers' comp for the following:
Occupational illness (exposure to asbestos, coal dust, etc.)
Hearing loss (for those who work in noisy environments)
Post-traumatic stress disorder (PTSD)
Back injuries
Muscle strains
Car accidents (while driving for work related activities)
Falls
Death from work related injury or illness
Pre-existing condition (that becomes aggravated by workplace injury)
Get a Workers' Compensation Quote from InsureOne
Getting a free workers' comp quote is fast and easy with InsureOne. Request a free quote online or call us at (800) 836-2240 to speak with a live agent who will take the time to learn more about you and your business and give you a personalized quote based on your unique needs.