Get a quick flood insurance quote online
What is Flood Insurance?
Flood insurance is a separate insurance policy that is used to protect against financial losses after a flood. Flood insurance covers physical damage that was caused by a flood.
In order to help alleviate the financial devastation caused by flooding, Congress created the National Flood Insurance Program (NFIP) in 1968. The NFIP, overseen by the Federal Emergency Management Agency (FEMA), enables homeowners, business owners, and renters in participating communities to purchase federally backed flood insurance.
What is Considered a Flood?
Floods are one of Earth's most common natural disasters. A flood is defined as an overflow of large quantities of water onto land that is normally dry. Flooding happens when rivers, streams, oceans, and lakes overflow after an excessive amount of rain.
Floods can also happen when water from snowmelt cannot drain properly.
Water damage that originates in a house is not considered a flood. So water damage that is caused by leaks, sewage, or sump pump backups (unless caused by a natural flood) are not covered by flood insurance.
How Does Flood Insurance Work?
The federal government administers national flood insurance and it is only sold only through licensed insurance agents. Homeowners can insure a home for up to $250,000 and its contents for up to $100,000. Renters can cover their belongings for up to $100,000. Non-residential property owners can insure a building and its contents for up to $500,000 each.
Typically, there is a 30-day waiting period when purchasing a new policy.
Is Flood Insurance Required?
Flood insurance is required if all of the following conditions apply:
The loan is secured by improved real estate or a mobile home that is affixed to a permanent parcel of land
Your home is located in a Special Flood Hazard Area (SFHA), a FEMA-designated high-risk flood zone
You have a federally secured mortgage through the FHA or VA, or a mortgage owned by Fannie Mae and Freddie Mac
The community where the property is located participates in the NFIP (National Flood Insurance Program)
Your home may not be in a defined "Special Flood Zone", but all properties can be subject to flood. Consider flood insurance if you live near the following areas:
A newly developed area where the flood water has nowhere to absorb
An area prone to wildfires where the soil is water-resistant
On or near a mountain where water runoff is common
Live next to a flood zone but not in one
Homes located in these areas qualify for special discounted programs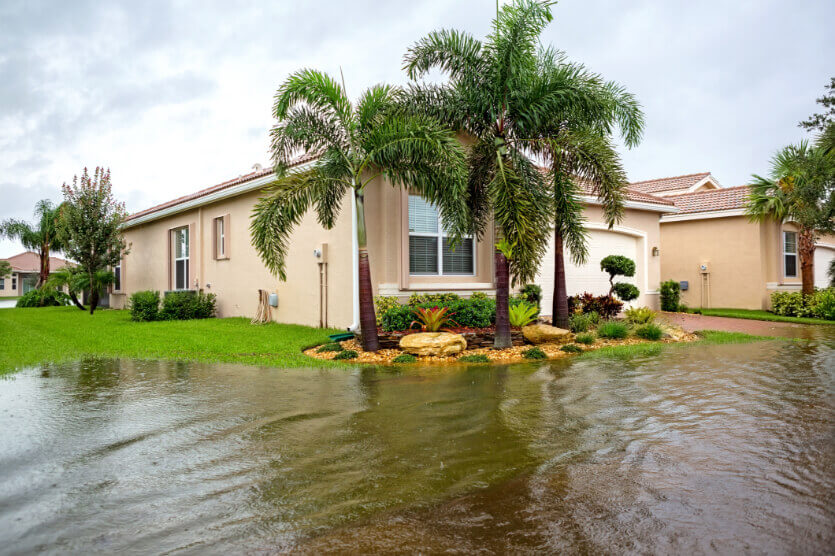 What Does Flood Insurance Cover?
Some homeowners insurance policies do not cover flood damage. If you live in an area that is prone to flooding, flood insurance will have to be purchased separately. Flood insurance is available to homeowners, condo owners, landlords, business owners, and even some renters. Typically, it covers:
A home and its foundation
Appliances
Certain cleanup expenses
Damages to your heating and cooling system
Repair or replacement of flooring
In addition, flood insurance can cover damage and loss of personal property as follows:
Clothing, furniture, and electronics
Curtains, window treatments, and rugs
Portable and window air-conditioners
Portable microwave ovens, dishwashers, and other small appliances
Clothes washers and dryers
Food freezers and the food in them
Valuables like artwork, jewelry, and furs (up to $2,500)
Coverage in the basement of your home is limited to structural building components (no drywall or finished flooring) heating/cooling equipment, freezers (no food), washing machines and dryers

—

no other contents.
Protect your home with flood insurance purchased through InsureOne
Since there is a waiting period for flood insurance, consider talking to an experienced agent from InsureOne today. Call us at (800) 836-2240 or request a quote online to get started.