Get a quick motorcycle insurance quote online
Protect Yourself with Motorcycle Insurance and Enjoy the Ride
Your motorcycle says a lot about you. After all, it's one of your most prized possessions. That's why you should protect your motorcycle with full motorcycle insurance coverage from InsureOne. Because many of us are riders too, we treat every client as a valued friend.
And, if you're concerned about being a hard-to-insure rider, your InsureOne agent can help you find the best motorcycle insurance coverage to protect you and meet your state's liability requirements.
Customize Your Motorcycle Insurance
Like the car insurance options we offer, InsureOne is your one-stop-shop for the best motorcycle insurance at the best price. Our local advisors will help you find the policy that best suits your needs and your wallet. Our access to a wide range of insurance carriers gives you the flexibility to choose the coverage that's right for you.
Discounts on motorcycle insurance are available for more experienced riders. Ask an InsureOne advisor about discounts for insuring multiple motorcycles or scooters, completing an approved motorcycle training and safety course, or for being a mature rider. Protect yourself and your investment with our wide range of motorcycle insurance options at great rates.
Coverage Options
The most common types of coverage include Bodily Injury and Property Damage Liability, Comprehensive and Collision, Uninsured/Underinsured Motorist, and Roadside Assistance.
Coverage Required in Most States
Mandatory motorcycle insurance requirements vary by state. InsureOne motorcycle insurance policies are designed to comply with all state-specific mandatory requirements.
Bodily Injury Liability
Reimburses bodily injury expenses, including hospital bills and medical care, that you may be held responsible to pay if you cause an accident that injures someone else, other than a guest passenger.
Property Damage Liability
Provides reimbursement to repair someone else's vehicle when you're determined to be responsible for damages after an accident.
Guest Passenger Liability
Specifically covers a guest passenger riding with you on your motorcycle.
Uninsured/Underinsured Motorist Coverage (required in some states)
Provides reimbursement for expenses associated with injury or death from an accident caused by an uninsured, underinsured, or hit-and-run driver. It also covers you if you are hit as a pedestrian.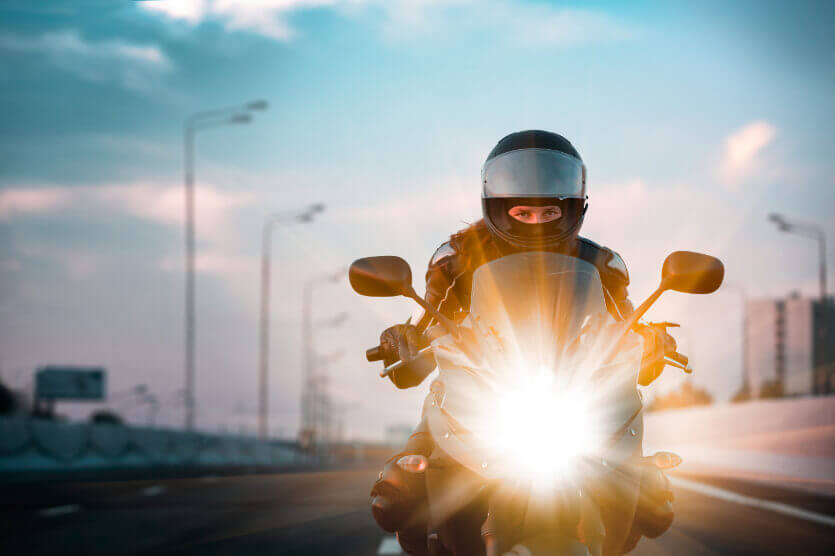 Types of Motorcycles Covered by Motorcycle Insurance
InsureOne offers low-cost insurance for all types of motorcycles and motorbikes, including:
General Purpose Motorcycles

Custom Choppers

Vintage Bikes

Antique Motorcycles

Cruisers

Motocross and Dirt Bikes

Street Sport Bikes

High-Performance Motorcycles

Mopeds

Scooters

And most other types of motorized bikes…
Motorcycle Insurance Quotes
If you're looking for affordable motorcycle insurance, you've come to the right place. Request a motorcycle insurance quote online or over the phone at (800) 836-2240 today and discover how affordable motorcycle insurance can be when you insure with InsureOne.