Jewelry/Fine Arts/Valuables Insurance
Get a quick jewelry/fine arts/valuables insurance quote online
If you have a homeowners or renters insurance policy you may think that all of your belongings are fully-covered; however that is not always the case when it comes to valuable items such as jewelry and fine art. A standard homeowners policy typically offers a minimum amount of protection for personal belongings and this protection is often limited by what would be considered a covered claim.
Fortunately, InsureOne can provide you with additional coverage for your most prized possessions including jewelry insurance, valuables insurance, fine art insurance and more.
The Process to Obtain Coverage
Assess your existing coverage. Review your homeowners, renters or condo insurance policy to check the coverage limits for personal property to see if you need more coverage than you have. For example, if your valuables are worth about $7,000, but your policy only covers $1,500, you may want to consider adding additional coverage.
Obtain an appraisal. An appraisal is a statement of value that determines how much your property is worth. The appraisal will determine the retail replacement value if something happened to your belongings.
Add a Rider. If you have an existing homeowners or renters insurance policy, a "rider" or a "floater" insurance policy can be added to insure your jewelry or valuables based on their appraisal value. It is also be referred to as "scheduling an item" on your existing policy.
What is Covered?
Unlike a standard homeowners or renters policy, scheduling valuable items not only increases the amount of insurance coverage, but also what would be considered as a covered loss. Coverage examples include:
If your property is stolen.
Unlike coverage from a standard homeowners policy, valuables insurance would cover accidental losses even if you are personally at fault.
This coverage would include total and partial damage. For example, total damage would be a painting that was destroyed in a fire whereas partial damage would be one of the diamonds falling out of an engagement ring and going missing.
These coverages would apply as insurance for a variety of items – whether it is for ring insurance, art insurance or antique insurance.
What is Not Covered
Wear and tear. You are not able to file a claim for a tarnished ring or a discolored stamp collection as it would be considered expected damage from age versus unexpected damage from an incident such as a fire.
Property with a value that exceeds the maximum limits of your existing policy. If you have a piece of jewelry or other valuable item that is worth more than the limits of your homeowners or renters insurance policy, you will need to invest in a separate policy.
Art or other valuables displayed outside of the home. If your art or collections are on loan or being displayed somewhere other than your property then it may not be covered.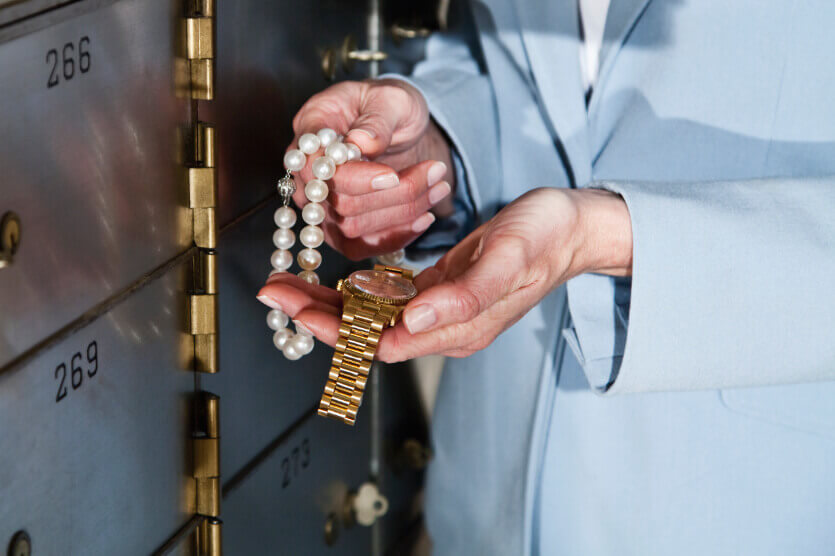 Types of Property Covered Under Valuables Insurance
Wedding ring insurance is the coverage that most people think of first when they do a mental assessment of their expensive belongings; however what many don't realize is how valuable their other possessions are. Some additional items that can be covered under valuables insurance include:
Artwork
Jewelry in addition to wedding ring and engagement ring insurance
China, crystal and silverware
Antiques
Golf equipment
Furs
Valuable collections such as stamps, coins or baseball cards
Firearms
Computer equipment
Electronic equipment
Musical instruments
Cameras
Jewelry Insurance or Valuables Insurance Quotes
You never want to consider the unthinkable happening to your sentimental and valuable items, but the reality is it happens more often than you think. Give yourself the gift of peace-of-mind by investing in an InsureOne valuables insurance policy. Request a free quote today online or by calling (800) 836-2240.