24/7 Roadside Assistance
No Matter Where You Travel, You're Covered
Do You Need Roadside Assistance?
The simple answer is yes. You never know when an unforeseen emergency will occur. If your car breaks down, roadside assistance can be a lifesaver. Getting the service will incur a fee if you don't have a plan, so an emergency road service plan can help ease stress and save you money, depending on your situation.
For example, it might be worth it if you are ready to take a road trip, have a long commute, or have an older car. It can also be an alternative if you don't have a local mechanic. Plus, your high school or college student is protected while they are on the road!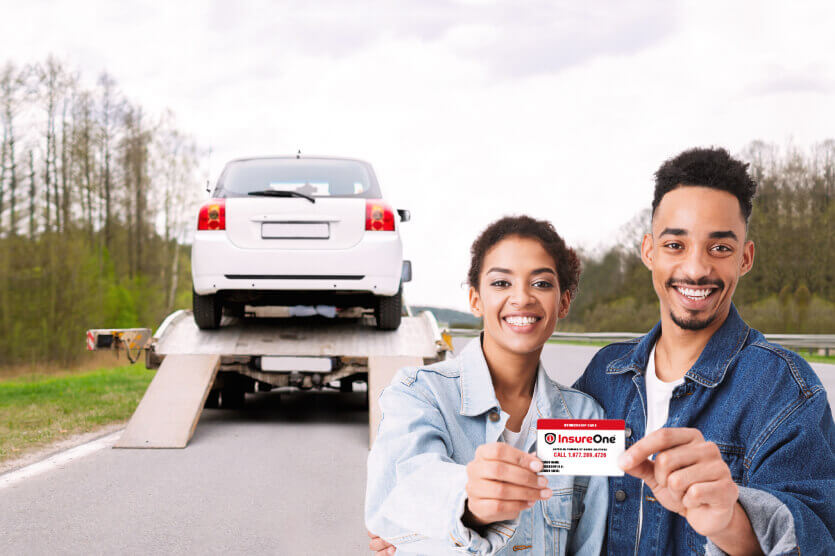 What Does a 24-Hour Roadside Assistance Plan Include?
Our roadside assistance includes:
24/7 Towing assistance. Your vehicle will be either towed to a qualified repair facility or the location you specify
Extrication assistance. Help with getting a covered vehicle out of a ditch or inaccessible area
Flat tire assistance. Replacement of a flat tire with the vehicle's spare one. Towing assistance will be provided if necessary
Fuel delivery service. An emergency supply of fuel and/or fluids will be delivered to any member in immediate need. We provide up to three (3) gallons of fuel will be delivered. The member will incur the cost of fuel.
Battery assistance. A jump-start when needed
Lock-out assistance. Help to get back into your vehicle if you lost the keys or they are locked inside.
And much more!
When Can You Use Roadside Assistance?
Most people associate roadside assistance with breaking down on some lonely road, but you can also use our plan if your car doesn't start in a parking garage or if you're parked at work. With roadside assistance, a professional is dispatched to your location immediately. Our service is available 24 hours a day, seven days a week.
How Does InsureOne's Auto Club 24/7 Roadside Assistance Plan Work?
We have partnered with Driven Solutions to offer our Auto Club program. When your car is not drivable, you should call the toll-free number immediately. Depending on your location, you'll get an estimate on how long it will take before you get help. When you need to file a claim, contact the service department number on your contract, and they will help process your paperwork.
How Do I Know if InsureOne's Auto Club Is Right for Me?
Compare costs of roadside assistance—towing, flat tires, fuel delivery, and more. This will give you some clarity on these types of expenses. Then, make some comparisons between out-of-pocket and prepaid expenses. The cost of an Auto Club membership depends on whether you want basic coverage or add-on enhancements. A basic plan can average between $70-$100 annually.
InsureOne's add on enhancements include the following:
Get Your InsureOne Auto Club Membership Today
Protecting yourself and your car is affordable and easy with InsureOne. Why wait? Get your Auto Club Membership and start driving worry-free today. Visit an office near you to get a plan or request a quote. You can also call us at 800-836-2240.