Get a quick snowmobile insurance quote online
Snowmobilers get excited when that first snowfall of winter finally comes. The powder is soft, sparkling, and fresh making it perfect for snowmobiling. Snowmobiling is fun, but it also comes with a lot of risks, including injury and snowmobile damage. InsureOne provides snowmobile insurance that will protect you and your snowmobile if you are ever in an accident.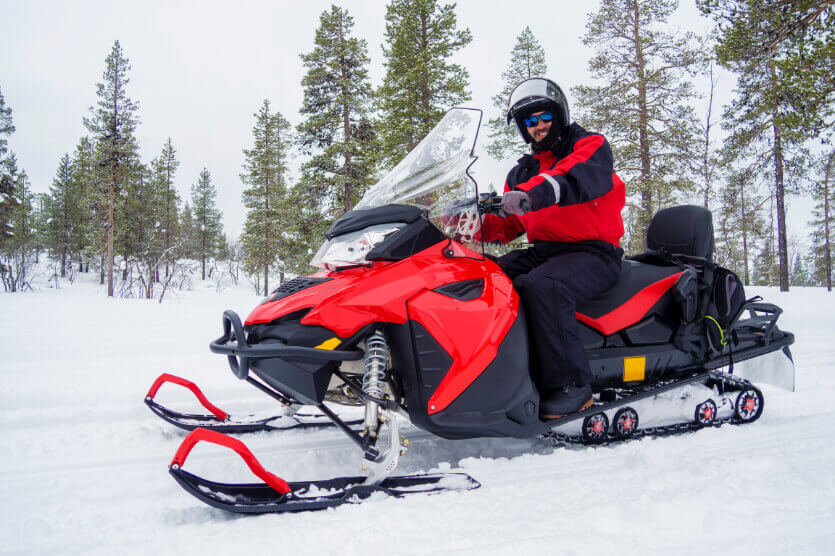 What Does Snowmobile Insurance Cover?
A snowmobile policy from InsureOne provides optimal insurance coverage for you and your sled. Learn about our coverages below:
Bodily Injury and Property Damage Liability
Your liability insurance comes with two types of coverage: bodily injury liability coverage and property damage liability coverage. Bodily injury protects you if you injure someone else in a snowmobile accident. Property damage protects you in case you accidentally damage someone else's property while riding your snowmobile.
Comprehensive
This coverage helps pay for damage done to your snowmobile from theft, vandalism, and weather-related incidents.
Collision
If you slide into a tree, collide with another snowmobile, or crash into a building, your snowmobile insurance with InsureOne will cover you
Uninsured/Underinsured Motorist Bodily Injury
If you're injured by another rider who is uninsured or underinsured, your uninsured motorist bodily injury/property damage coverage kicks in—up to your policy's limits.
You can customize your snowmobile insurance plan by adding accessory and custom parts/coverage equipment and more. Insure provides customized snowmobile insurance.
Snowmobile Insurance Rates
InsureOne provides reliable snowmobile insurance at affordable rates. We customize each policy to meet the needs of each client. When you call, we will give you a rate that works best for your situation.
Snowmobile Insurance Quote
Start your free snowmobile insurance quote today online or by calling (800) 836-2240. Our experienced insurance agents will be happy to help. Snowmobile insurance is mandatory in some states and is also required in some parks. Don't hit the snow without getting your free quote from InsureOne today.