Get a quick atv insurance quote online
ATV Insurance
Driving all-terrain vehicles (ATVs) or utility vehicles (UTVs) can be a lot of fun, but they can also be wild and rough. Whether you are using your recreational vehicle to hunt, handle chores on your farm, do yard work, or ride trails, InsureOne knows that ATVs and their drivers face unique risks – therefore you should have unique insurance that is specialized to meet your needs.
Is ATV Insurance Required?
ATV insurance requirements are based on a number of factors including:
The state in which you live. In most states, ATVs cannot be driven on roads and therefore they do not require insurance coverage; however, liability coverage may be required if you ride in state-owned parks or trails.
Where you ride your ATV. Your homeowners insurance policy likely offers liability coverage on your ATV when you are riding it on your property; however this coverage wouldn't pay for damages to your ATV and it wouldn't apply if you are riding trails away from your home.
If the vehicle is financed. If you lease or finance your ATV, you may be required to have collision and/or comprehensive coverage.
What Type of Off-Road Insurance Coverage Does InsureOne Provide?
InsureOne offers protection for a wide variety of recreational vehicles including, but not limited to:
Quads
Golf carts
Snowmobiles
Dirt bikes
Dune buggies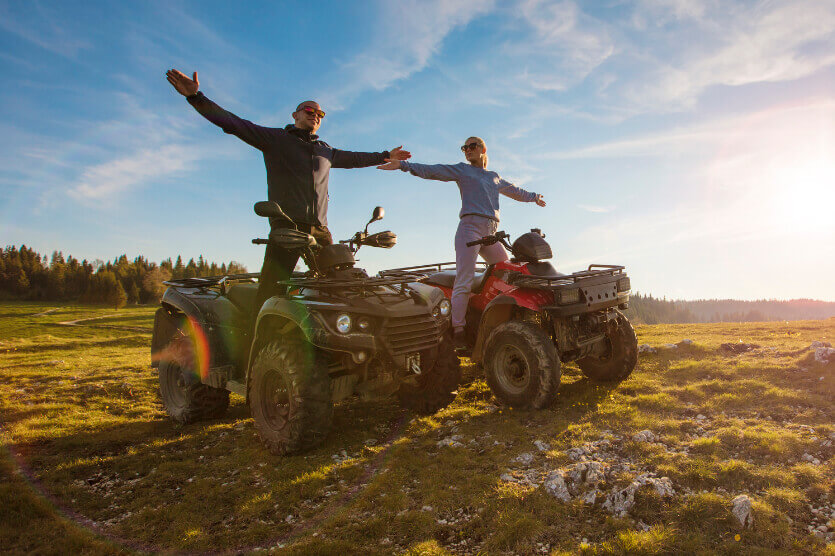 What Does ATV Insurance Cover?
ATV insurance includes many of the coverage options found on your auto insurance policy; however, they are specific to your recreational vehicle. It is important to note that your current auto insurance policy likely offers little or no coverage for your ATV or other recreational vehicles.
The coverage that ATV insurance provides includes:
Liability insurance. If you cause an accident, liability insurance will help to pay for any injuries or property damages that you inflict on another party.
Collision coverage. This insurance will help to pay for any damage to your ATV following an accident.
Comprehensive coverage. This coverage will help pay for any damage to your ATV that results from any incident other than a collision, such as theft, fire or weather-related damaged.
Uninsured/underinsured motorist coverage. This insurance would protect you if you are involved in an accident on your ATV with another driver who is uninsured or does not have enough insurance to pay for the damages to your vehicle.
Medical payments. This coverage would help pay for medical and funeral expenses related to any injuries you sustain while riding your ATV.
Gear insurance. You can also obtain coverage to protect your gear such as helmets, boots, gloves, and more.
How Much Does ATV Insurance Cost?
While ATVs can pose a number of risks, the cost to insure them may be more affordable than you think – less than a motorcycle insurance policy, in fact. This is due to the fact that ATVs cannot go as fast as motorcycles and because owners tend to spend less time on them and drive them for fewer miles.
Your off-road insurance premium is based on the coverage options you choose as well as where you live, your driving record, the make and model of your ATV, and how it is used.
With an InsureOne ATV insurance policy, you may also be eligible for a variety of discounts such as a multi-policy discount, a discount for owning more than one recreational vehicle, and anti-theft discounts, among others.
Get an ATV Insurance Quote
You have invested a lot into owning your ATV, make sure it is protected. With InsureOne, cheap ATV insurance with a quality guarantee is possible. Request a free ATV insurance quote online or over the phone by calling (800) 836-2240.