Compare Auto Insurance Quotes
Get a quick auto insurance quote online
We Find Top-Tier Car Insurance That Saves You Time, Money, and Stress
Shopping for car insurance can be challenging, but InsureOne simplifies it all by handling everything for you.
By choosing InsureOne, you won't need to spend hours visiting multiple websites searching for the best car protection because our experienced agents compare quotes from top insurance companies for you. You'll walk away with the best coverage options, great rates, and time to spare. From start to finish, the whole process takes less than five minutes: get your quote now!
Why Do I Need Car Insurance?
In most states, auto coverage is a legal requirement to drive. It can be confusing because every state has its own minimum insurance requirements.
Deciding how much of a plan you need to comply with state regulations, as well as giving you peace of mind that you are financially protected while driving, can be tricky. That's why we offer knowledgeable and experienced agents who can help you find the balance between need and cost. We'll offer you several flexible options tailored to your situation, so you can make the best choice without spending all day surfing the internet or on the phone.
In most cases, the minimum your state requires is not enough to give you and your family the protection you need in the event of an accident. That's one reason why it's important to have options – so you can make an informed decision.
How Do I Get Car Insurance Quotes?
You may think you need to spend all day surfing the internet or calling insurance companies to find the coverage you want and need at the right price. That's certainly one way to do it.
We've got a better way. Our agents have years of experience in doing this for you – so you can spend that time on more important things, like a day with the family. We'll have an in-depth conversation with you to help you understand your options, as well as listening carefully to your needs – so you can feel assured when you get behind the wheel that you are covered.
The result is a tailored policy with the best coverage at a price you approve. Just start by getting a quote online, getting in touch by calling us at (800) 836-2240 or stopping by one of our locations.
How Can I Save Money on Auto Insurance?
Our professional insurance agents will take the time to listen to your needs. Not only will you receive several flexible options so you can enjoy both protection and affordability, but we will also go above and beyond with special discounts.
Discounts
We offer a broad range of car insurance discounts to help you save money. When you bundle your auto insurance with other needed products, such as home insurance, you can enjoy up to 15% off your total premium. Here's a table that shows the average percentage of savings you may realize with InsureOne discounts.
| Discount | Savings |
| --- | --- |
| Bundle (Multi-Policy) | 14% |
| Good or Safe Driver | 10-30% |
| Customer Loyalty (not available in all states) | 11% |
| Military/First Responder | 15% (up to 90% for deployed) |
| Multi-vehicle | 10%-25% |
| Pay Bill in Full/Go Paperless | 4%-9% |
| Green/Hybrid Vehicle | 10% |
Bundling auto insurance with home insurance or other types of insurance will help you save money. Our knowledgeable insurance agents will look for opportunities to help you save money on your auto insurance while ensuring you get the coverage that's right for you.
Pros and Cons of a Low vs High Insurance Deductible
In the event of a claim, a high deductible means you will be kicking in more money before your insurance kicks in the remainder up to your policy limits. The pros are your premium will be lower since you are assuming more financial responsibility. The cons are that you will need to be able to come up with that amount (or not suffer if it is deducted from your insurance check). On the other hand, a low deductible means your premium will be higher, but your financial stake in a claim will be lower. Let's take a look:
You've purchased a policy with $100,000 property damage liability coverage. Your deductible is $500 and your premium is $65 monthly. If you need to file a claim, you'll be responsible for paying $500 and your insurance company will pay the rest up to $100,000 ($99,500).
If you increase your deductible to $1,000, your premium will go down since you are assuming more financial risk. That's the pro. However, if you need to file a claim, you'll need to come up with $1,000 or be financially OK with your insurer only paying out $99,000.
Ultimately, the decision rests with you. At InsureOne, we are happy to help you weigh which option works best for your situation.
Auto Insurance Near Me
InsureOne is proud to offer insurance solutions in all 10 states! You can always find affordable car insurance near you. Whether it's in person at one of our convenient office locations, by phone or online, we are available to help you.
Just click on your state below and you'll find affordable auto insurance options, plus everything you need to know about the rules and regulations in your state, how much the average policy costs, how to save money on your policy with smart decisions, available car insurance discounts and much more.
What Auto Insurance Do I Need?
At InsureOne, we offer the full spectrum of car insurance coverage options.
Liability – Pays for property damages and injuries you cause to others while driving.
Comprehensive – Pays to repair or replace your vehicle if it's damaged by an incident that is out of your control, such as vandalism, theft, fire, acts of nature, or colliding with an animal.
Collision – Covers damages to your vehicle if you're in an accident, regardless of fault.
Uninsured/Underinsured Motorist – If you're hit by a driver who doesn't have insurance or doesn't have enough insurance, uninsured motorist bodily injury and property damage coverage pays for your injuries and damages, up to the limits of your policy.
Medical Payments (MedPay) or Personal Injury Protection (PIP) – Covers medical costs if you, your family members, or your passengers are injured in an accident, regardless of fault.
Rental Car Reimbursement – Rental car reimbursement covers the cost of renting a car when your car requires repair due to a covered loss.
Gap Insurance – We'll pay off the balance of your new auto loan if your car is totaled or stolen.
Why Choose Auto Insurance from InsureOne?
There are many benefits to insuring your car through InsureOne, including:
We work with top insurance companies to find you the best coverage at a great price.
We've been helping drivers save money on car insurance for over 30 years.
We offer a wide range of insurance options – from basic to premium – that are sure to fit your needs.
We have multiple office locations throughout the U.S., and can also be reached by phone and online.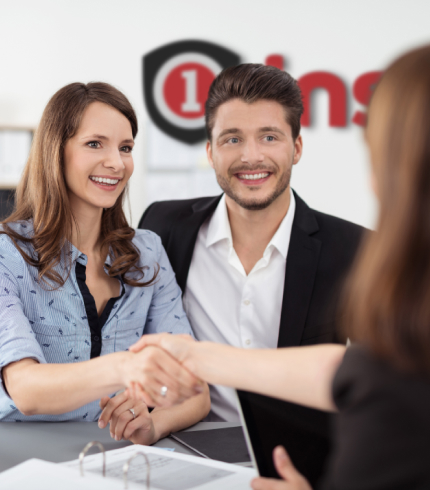 Get the Best Auto Insurance Quote Online or Over the Phone
Auto insurance is a necessity before you get behind the wheel. At losureQne, we also know how important it is to actually have the time, money, and peace of mind to enjoy your vehicle.
Request a free car insurance quote online or by giving us a call at 800-836-2240 and let us make it easy for you to quote, buy, and save on the best car coverage for you. You are also welcome to stop by one of our convenient locations.