Get a quick auto insurance quote online
When it Comes to Shopping for Auto Insurance, We Do the Work for You
Shopping for car insurance can be challenging and time-consuming, but InsureOne simplifies the process by handling the details for you. When you choose InsureOne, there's no need to visit multiple websites searching for the best car insurance coverage because we automatically compare car insurance quotes from top insurance companies to ensure you get the best coverage and great rates.
We know you're busy and your time is valuable; that's why we make it easy to purchase a car insurance policy that fits your individual needs so you can focus on the things that matter most to you. In most cases, it takes less than five minutes to get a quote and choose your policy.
We know you have many options when it comes to car insurance. That's why we strive to provide you with best-in-class support, great coverage, and affordable rates.
How We Help You Save Money on Auto Insurance
We offer a broad range of car insurance discounts to help you save money, including multi-car, good driver, student, and military discounts. In addition, bundling auto insurance with home insurance or other types of insurance will help you save even more money. Our knowledgeable insurance agents will look for opportunities to help you save money on your auto insurance while ensuring you get the coverage that's right for you.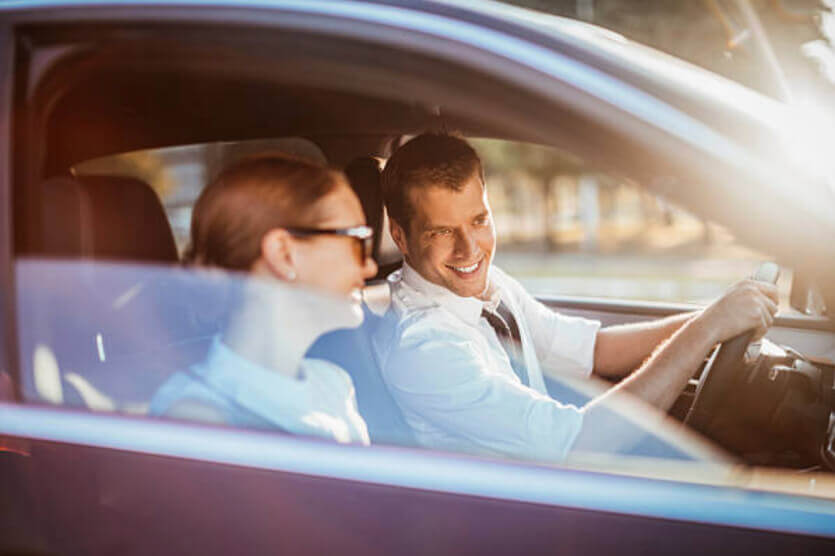 Auto Insurance Coverages We Offer
We offer the following types of car insurance coverage options:
Liability – Pays for property damages and injuries you cause to others while driving.
Comprehensive – Pays to repair or replace your vehicle if it's damaged by an incident that is out of your control, such as vandalism, theft, fire, acts of nature, or colliding with an animal.
Collision – Covers damages to your vehicle if you're in an accident, regardless of fault.
Uninsured/Underinsured Motorist – If you're hit by a driver who doesn't have insurance or doesn't have enough insurance, uninsured motorist bodily injury and property damage coverage pays for your injuries and damages, up to the limits of your policy.
Medical Payments – Covers medical costs if you, your family members, or your passengers are injured in an accident, regardless of fault.
Rental Car Reimbursement– This coverage is optional. Rental car reimbursement covers the cost of renting a car when your car requires repair due to a covered loss.
Gap Insurance – This coverage is optional, but highly recommended. With gap insurance, we'll pay off the balance of your auto loan if your car is totaled.
Why Choose Auto Insurance from InsureOne?
There are many benefits to insuring your car through InsureOne, including:
We've been helping drivers save money on car insurance for over 30 years
We offer a wide range of insurance options – from basic to premium
We have multiple office locations throughout the U.S.
We work with top insurance companies to find you the best coverage at a great price
Our agents have years of experience in the insurance industry and are equipped with the knowledge to help you find a policy that best fits your needs
Get an Auto Insurance Quote Online or Over the Phone.
Auto insurance is a necessity before you get behind the wheel. We've made it easy to quote, buy, and save. Request a free car insurance quote online or by giving us a call at 800-836-2240 and let us maximize your savings.