How to Disinfect Your Car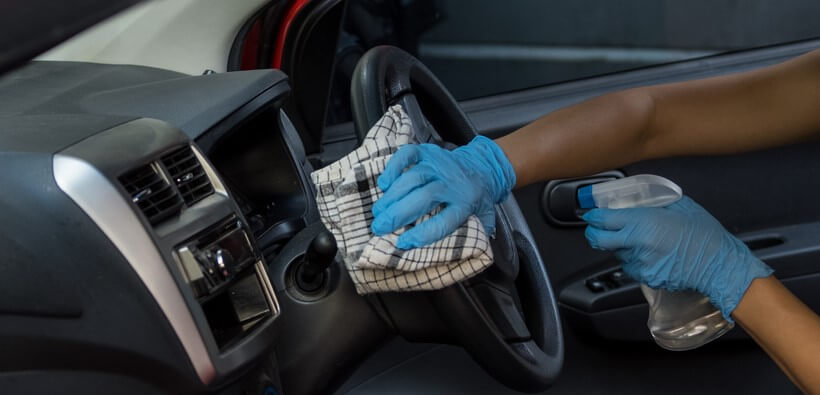 These days, it is more important than ever to keep up with regular cleaning in your house. The importance of hygiene during the COVID-19 pandemic cannot be stressed enough. The virus can come in contact with surfaces and remain for hours or days, depending on the material.
Unfortunately, many people forget to sanitize their vehicles. Since public transport shut down in many cities across the country, some drivers are using their cars more. This means that sanitizing vehicles is also more critical than ever.
Fortunately, it is possible to disinfect your car without using non-corrosive cleaners that may damage the surface. Let's look at cleaning tips to keep your vehicle disinfected and your family healthy and safe.
What Should You Use to Disinfect Your Car?
The simplest way to attack COVID-19 is with soap and water. For your vehicle, mild dish detergent is an excellent cleaning agent to wash off germs. Soap and water are also safe for most car interiors. Cleaning products such as Lysol, Clorox, and Microban will also disinfect properly. If your car has a touchscreen, use a microfiber cloth to wipe it down. If you have cloth seats, a spray like Lysol is effective when given time to dry.
Please do not use bleach or hydrogen peroxide on your car's upholstery, as it may likely damage it. Also, do not use ammonia-based cleaners on car touch screens, as they can damage their anti-glare and anti-fingerprint coatings.
Sanitize All Touch Points
According to the Centers for Disease Control and Prevention (CDC), washing your hands and disinfecting high-touch surfaces are two of the best ways to prevent spreading COVID-19. Sanitizing your car's door handles and steering wheel when you get in and out of your vehicle is key.
The virus can also thrive in touchpoint areas that you may not think about frequently or that you touch absent-mindedly, such as:
Anything touchscreen
Seatbelts
Glovebox
Radio
Dashboard
Cupholders
Gear shift
Key or start button
Sun visor
Console
Cup holders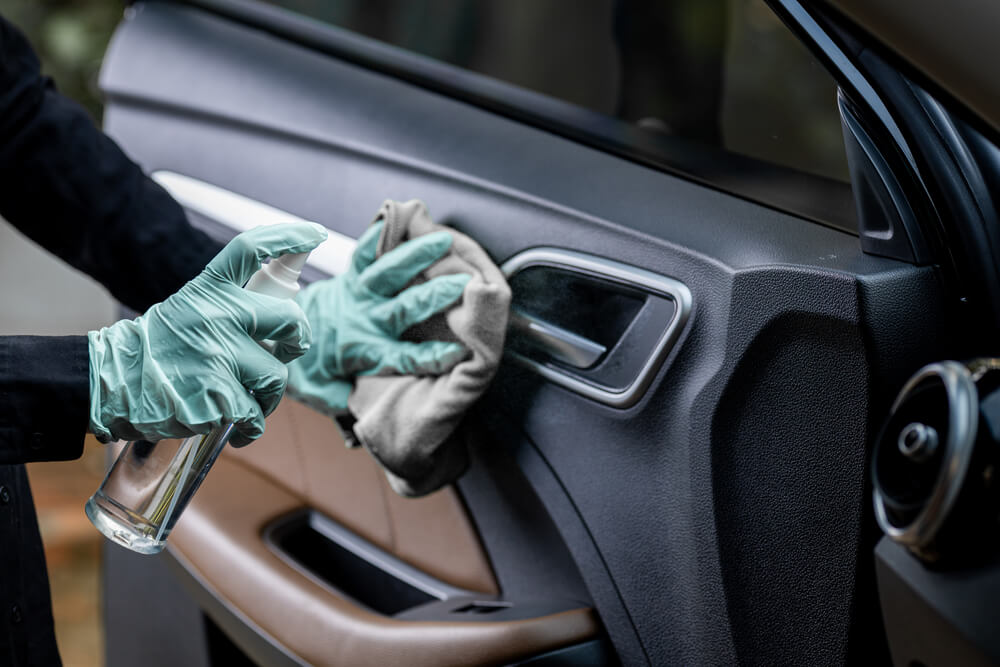 When you disinfect your car, work your way down. Start with the sun visors and move down to your dashboard. Don't forget the seats as well. The back of your car may also be exposed to viruses and germs, especially when you're picking up groceries and other necessities.
Use Disinfectant Wipes for Spot Cleaning
Quickly clean down surfaces with disinfectant wipes once or twice a day, depending on how often you drive your car. If someone in your household is sick, you may want to wipe down surfaces more frequently. You can use disinfectant wipes on most surfaces, except leather and touchscreens. After you wipe the area, let it air dry to kill any bacteria that could linger. You can also use specific wipes made for cleaning your car's leather.
While keeping your car clean is always part of good car care practice, getting rid of virus-spreading germs is crucial more than ever. Do it routinely to keep you and everyone healthy and free from COVID-19.
Are you getting ready to hit the road again? Make sure you're covered with InsureOne. Get your free car insurance quote online, over the phone, or at one of our offices near you. We remain open and ready to meet all of your insurance needs.