Food Truck Insurance Basics: What Coverage Do You Need?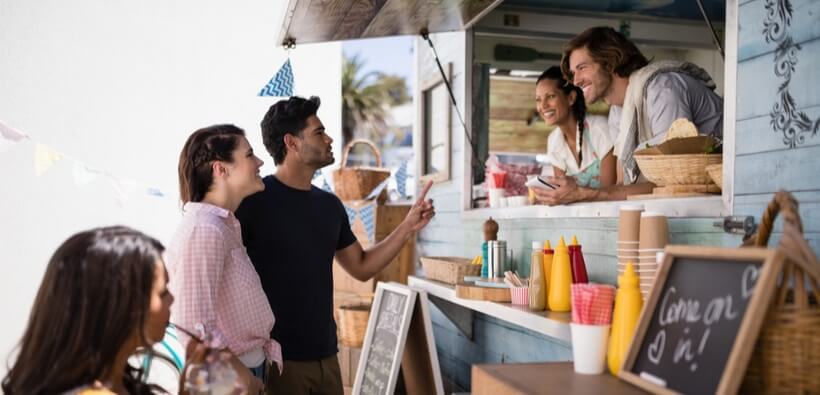 Your food truck is primarily a restaurant on wheels, making it a mobile business in the eyes of insurance companies. For that reason, you need to cover the truck itself as well as your employees and property. The coverage you need depends on the type of food truck you have. Start by learning the difference between a food truck vs. a food trailer. That'll make it easier to identify the type of food truck insurance required.
Food Truck vs. Food Trailer
A traditional food truck is a combination of a vehicle and an all-in-one kitchen. Food trucks come in many forms. That includes mobile food trucks that drive from one location to the next and catering and vending trucks that travel to designated areas to provide a service.
Usually, these trucks provide a specific service. That's why there are ice cream trucks, taco trucks, and lunch trucks that address the midday rush. Regardless, you'll need to get commercial truck insurance to cover your vehicle, along with additional coverage.
If you have your mobile kitchen attached to a trailer, meaning you tow it with another vehicle, you have a food trailer. For this, you'll need commercial vehicle insurance for the truck used to tow the trailer, as well as an endorsement to insure the trailer itself. The endorsement serves as food trailer insurance. However, you'll need additional coverage beyond that.
Types of Food Truck Insurance
Foodservice vehicles need more coverage than traditional commercial vehicles. If you own a food truck business, it's imperative to get all the necessary protection.
Auto Liability
Auto liability insurance covers property damage and injuries incurred due to an accident. This coverage is only active whenever the truck is in motion.
Food Truck General Liability Insurance
When you park your food truck to serve customers, it operates as a business. Food truck liability insurance will protect you from financial liability-related issues. It also covers property damage and injuries to third parties. This includes foodborne illnesses, along with slips and falls. Additionally, general liability insurance covers any legal fees associated with a lawsuit filed against the food truck business.
Workers' Compensation
In most states, workers' compensation is mandatory. This coverage pays medical costs and lost wages if an employee sustains an injury while on the job.
Property Damage
Collisions, fires, vandalism, and theft can occur when owning a food truck. When buying food truck insurance, you'll need to add coverage for property damage. The policy will cover the truck, as well as any attached equipment such as a plumbing line, gas line, or bolts.
Contents Coverage
While contents coverage is another form of property insurance, it provides protection for items that aren't permanently attached to the truck. For example, this policy covers cooking materials. Although this type of food truck insurance isn't mandatory, it's wise to get it just in case the contents become damaged.
What Factors Affect Food Truck Insurance Cost?
Various factors determine the cost of food truck insurance. For a better idea of how much you'll pay for coverage, it's essential that you talk to a reputable insurance provider.
Business Type
Food trucks are mobile, so the risk is higher compared to a stationary business. Because of that, food truck insurance can be more expensive than other types of commercial insurance.
Operating Location
Typically, food truck owners have permits to operate in specific geographic locations. If the location is in or near a high-crime area, it could increase the monthly premiums.
Property Value
When determining the rates for food truck insurance, agents consider the value of the property. Trucks with expensive equipment might cost more to insure. The age of the equipment is another factor.
Replacement Cost Coverage versus Actual Cash Value
When securing an insurance policy for a food service vehicle, you'll choose between replacement cost and actual cash value coverage. Replacement cost coverage is more expensive. However, it also replaces items for what they would cost today as opposed to what you spent several years ago.
Coverage Amount
You can choose the coverage amount when purchasing food truck insurance. Minimum coverage yields the lowest premiums. However, this could cost your company money in the long run since you might have to pay out of pocket if something happens.
Deductibles
There's also the amount of the deductible to consider when purchasing insurance. You can choose a high deductible policy in exchange for lower premiums. Before doing this, make sure you have enough money to pay the deductible.
Payroll and Job Function
As part of the underwriting process for workers' compensation coverage, the insurance company will factor in payroll and job functions. If your company has high payroll costs and dangerous job functions, you can expect higher premiums.
Get a Quote for Food Truck Insurance
With so many coverage options and factors that go into the cost of a policy, buying food truck insurance can seem overwhelming. Fortunately, a reputable provider like InsureOne can help simplify the process. Request a free commercial auto insurance quote online or over the phone at (800) 836-2240 today. A licensed insurance agent will discuss your coverage needs and make recommendations that match that criteria.