Hail – It's the Pits! How to Protect Your Car From Hail Damage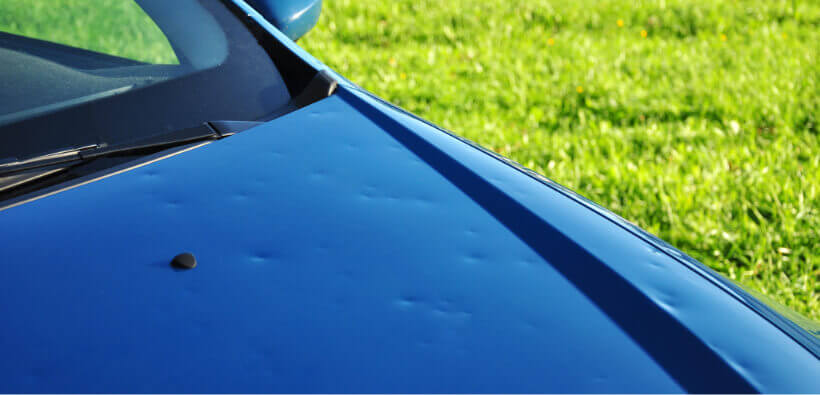 There is no doubt that our cars are one of our most valuable assets. Our vehicles allow us to travel from one place to another, for work and for pleasure. We have a relationship with our vehicles and sometimes even give them a name, like one of the family. One of the most feared forecasts for car owners is hail. Hail damage is a common cause for a car to diminish in value. Did you know that a one minute hail storm can total a car? So how should we prepare for the crazy spring weather and protect our cars from hail damage?
Here are some steps you can take to protect your car from hail damage:
Obviously, having covered parking at work and at home is the best way to protect your car from hail damage. The cost of covered parking is usually worth the expense to protect your car. Covered parking prevents your car from feeling the effects of heavy sleet, hail, heat, and snow as it acts as an effective barrier of protection.
If you do not have access to a covered parking area, you should scout out covered parking near your home and/or work to be able to find temporary shelter. If you hear that there is hail in the forecast, you will have your temporary parking in mind. Malls, office buildings, banks, apartment complexes and maybe even a friend or neighbors garage are great options.
If you cannot get under cover, invest in a car cover or a blanket. Many companies offer special blankets designed to protect your car from hail damage, including an inflatable hail shield.
If nothing else, consider duct taping heavy blankets to your vehicle. Moving pads work well. During the taping process, it is recommended to do so towards the bottom of the vehicle so that the sticky residue doesn't have an effect on the vehicle's paint.
Be sure you are prepared with a comprehensive auto insurance policy and review your coverage with your agent. Some policies have specific coverage for damage caused by hail or glass damage. In most cases, a comprehensive insurance policy will cover hail damage, but be sure you understand your coverage before the storms strike.
Following these guidelines will help you weather the storms with confidence, and protect your financial future in case of damage due to hail storms.