5 Most Common Types of Employee Benefits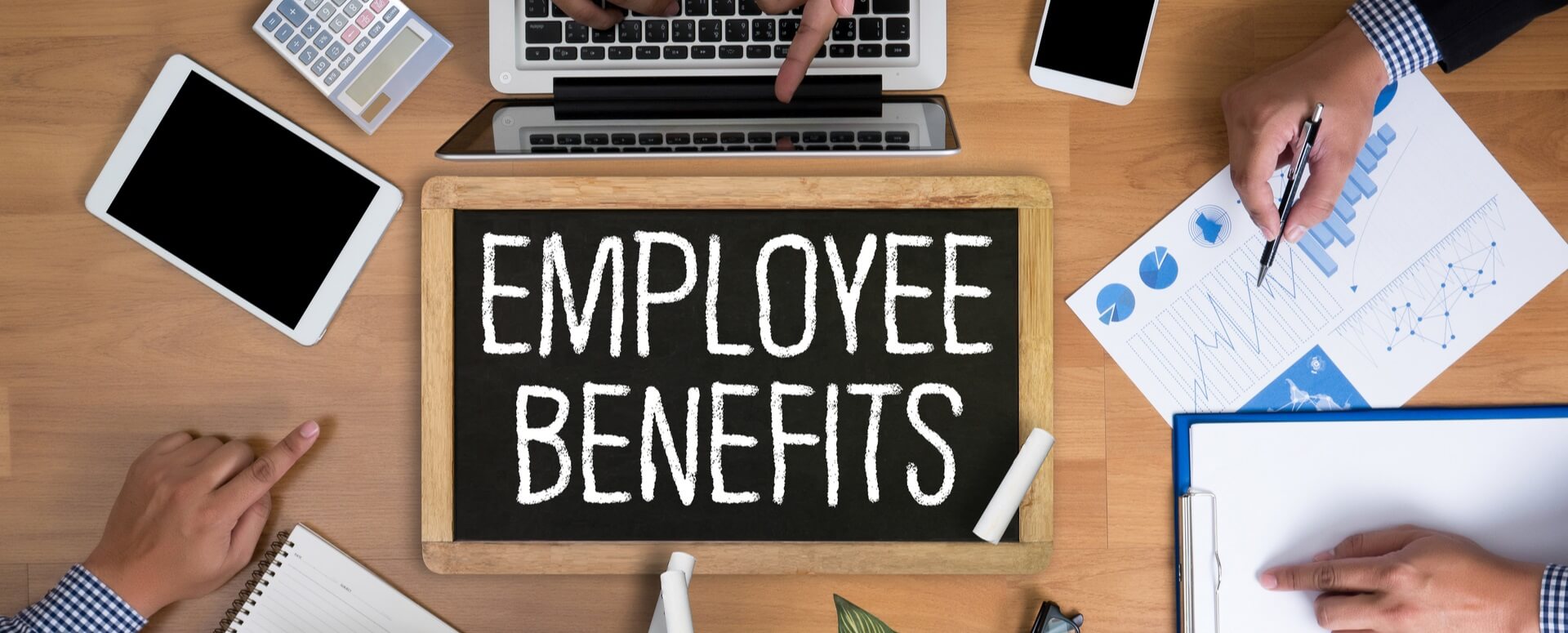 Many employers offer employee benefits that are designed to attract and retain employees, help them maintain good health, and provide a safety net for their families when the unexpected happens. The most common benefits offered by employers are medical, dental, vision, group life, and disability. Learn more about each benefit and why employees need to take advantage of employer-sponsored insurance.
Quick History of Employee Benefits in America
Retirement plans were the dominant employee benefits in the early 20th century right up until World War II. The first private pension plan was established in 1875 with the American Express railroad company. With the rise of labor protests, the Depression, and the threat of an economic upset, the War Labor Board implemented a new income tax exemption to employers sponsoring employee health plans. This made employer contributions deductible on federal returns, while the benefits were entirely tax-free to the employees.
By the 1960s, employer-sponsored health insurance plans had overwhelmingly overtaken the individual market.

1. Medical Insurance
The most common, and perhaps the most important, benefit that employers can offer is health insurance. With group medical insurance, the employer selects and purchases a group health insurance plan or plans, and employees choose the health insurance plan that works best for them. Group medical insurance helps employees save on costs associated with doctor visits, hospital stays, prescriptions, illnesses, pregnancies, and more. Also, health insurance offered through an employer is often cheaper than purchasing private medical insurance.
Some employers offer savings plans like the Flexible Spending Account, Wellness Spending Account, or Health Reimbursement Account. These accounts allow employees to save on things like daycare, gym memberships, and other expenses. Check with your employer to see if these benefits are available to you.
2. Life Insurance
Life insurance is another popular benefit among employees. Life insurance pays out payments to an employee's family when they pass away. The benefits help the families pay for funeral expenses, bills, and other expenses. Group life insurance offers peace of mind for employees knowing that they are leaving something behind for their families.
3. Dental Insurance
Dental insurance covers issues related to teeth and gums. Dental procedures covered by insurance policies are typically grouped into three categories: preventive, basic, and major. Most dental plans cover 100% of preventive care, such as annual or semi-annual office visits for cleaning, and X-rays.
4. Disability Insurance
Disability insurance provides benefits to eligible workers who have a full or partial loss of wages due to a non-work-related illness or injury. There are two types of disability insurance: short-term and long-term coverage. It offers income protection when your disability won't allow you to work. Short term disability pays a portion of a worker's salary for three to six months. Long term disability pays a portion of a worker's salary for six months or longer. Without disability insurance, you could be without income while you are out of work. Some employers offer this at no cost to the employee.
5. Vision Insurance
Vision insurance plans are designed to reduce the costs of routine preventive eye care and prescription eyewear. Most vision insurance plans are actually discount plans or wellness benefit plans that provide specific benefits and discounts for an annual premium.
Vision plans generally cover or provide discounts on the following:
Annual eye exams
Eyeglass frames
Contact lenses
Eyeglass lenses (including lens coatings and enhancements)
Discounted rates for LASIK and PRK
Employee benefits have come a long way. In addition to the five major benefits listed here, some employers offer tuition reimbursement, wellness programs, workplace flexibility, corporate discounts, and more. Be sure to check with your HR department to see if there are any benefits that you are not taking advantage of. Most companies have a Benefits at Work program that explains all of the benefits in detail.
Depending on your job, you can enroll in benefits during open enrollment or after your company's waiting period. If you cannot enroll in your employer-sponsored insurance and need affordable medical insurance, dental insurance, vision insurance, disability insurance, or life insurance, call InsureOne today at (800) 836-2240 to get a free insurance quote from a live representative.