Staying Inside? Try These 6 DIY Home Projects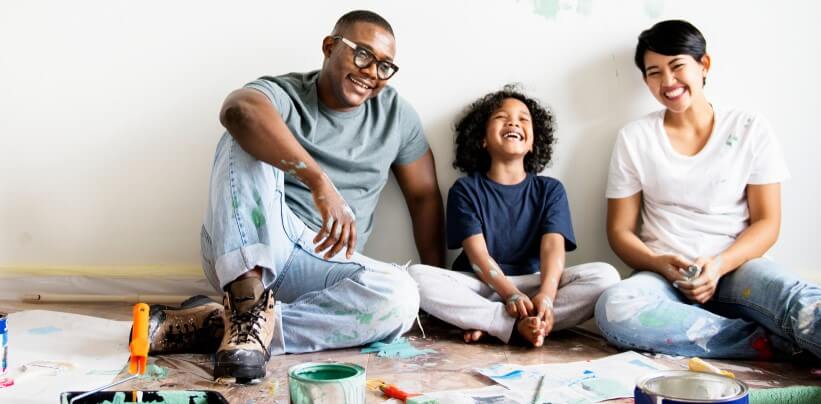 By now, everyone has heard of the novel coronavirus known as COVID-19. Whether you live in a large city or a rural community, government officials everywhere are ordering people to stay inside. The goal is to prevent the spread of the virus, thereby bringing this mess to a halt.
Unfortunately, a lot of people stress when they don't have anything to do. Especially for Type A personalities, being at home all the time becomes maddening. However, you can put the downtime to good use by tackling one of these DIY home improvement ideas.
Beginner Home Improvement Projects
When it comes to home improvement, you don't have to be a professional. There are thousands upon thousands of home projects that require little, if any, skill.
1. Painting
Perhaps one of the easiest of these DIY home projects is to paint the walls in your home. If you've been thinking about doing something completely different but haven't had the time, here's your opportunity. Depending on how long you have to stay inside, there's a chance you could do the entire interior of your home. You'll end up with walls that look fresh and clean.
2. Lighting
Another one of these easy DIY projects for the home is to switch out your light fixtures. Remember, you don't have to be a licensed electrician to do this. Regardless if you want to add track lighting to a basement, pendant lighting over a kitchen island, or something new in the bathroom, you can do it. For this home project, follow the instructions included with the fixture or check out tutorials online.
3. Faucets
If you have bathroom or kitchen faucets that are showing wear and tear, why not install new ones. You can do this without being a licensed plumber. Since you have time on your hands, there's no need to rush when doing home projects that seem a little more involved.
4. Cabinet Rollouts
Are you tired of struggling to reach your pots and pans from inside a kitchen cabinet? Perhaps you end up with canned food that expires because it's always at the back. Next on this list of easy DIY projects for the home is installing a cabinet rollout. All you need is the product and a screwdriver. In no time, you'll have access to everything inside your cabinets.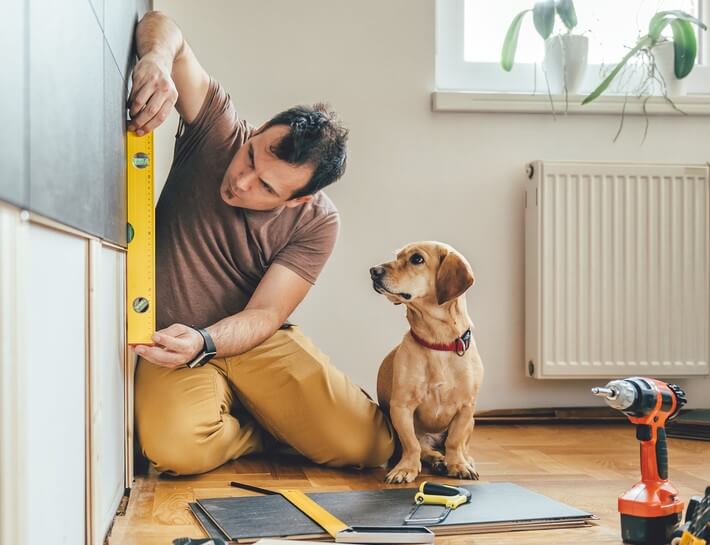 5. Flooring
With easy-to-install flooring available, this is a great time to change a room in your house. If you've never installed anything like this, start with a smaller space, perhaps a bathroom or the laundry room. As far as beginner home improvement projects go, this one ranks high. In just a few hours, you'll have a gorgeous new floor that enhances the aesthetics of your home and increases its value.
6. Hardware
Without question, changing the hardware on cabinet doors and drawers is about as easy as it comes. While not overly complicated, this home improvement project will drastically change both their appearance and functionality. If you're super ambitious or maybe exceptionally bored, you might remove the old hardware and paint all the cabinets and drawers first. Even if you only tackle the hardware part, the transformation will shock you.
During this trying time, everyone needs to follow the rules and stay safe. If you have no option but to stay inside, why not make the best of it by enhancing your home. Of course, there are many other DIY home projects to consider, but this list gives you some ideas of what you can accomplish.
Did you know that InsureOne offers homeowners insurance solutions at great prices? Get a quote online or over the phone today!