8 Driving Safety Tips for Halloween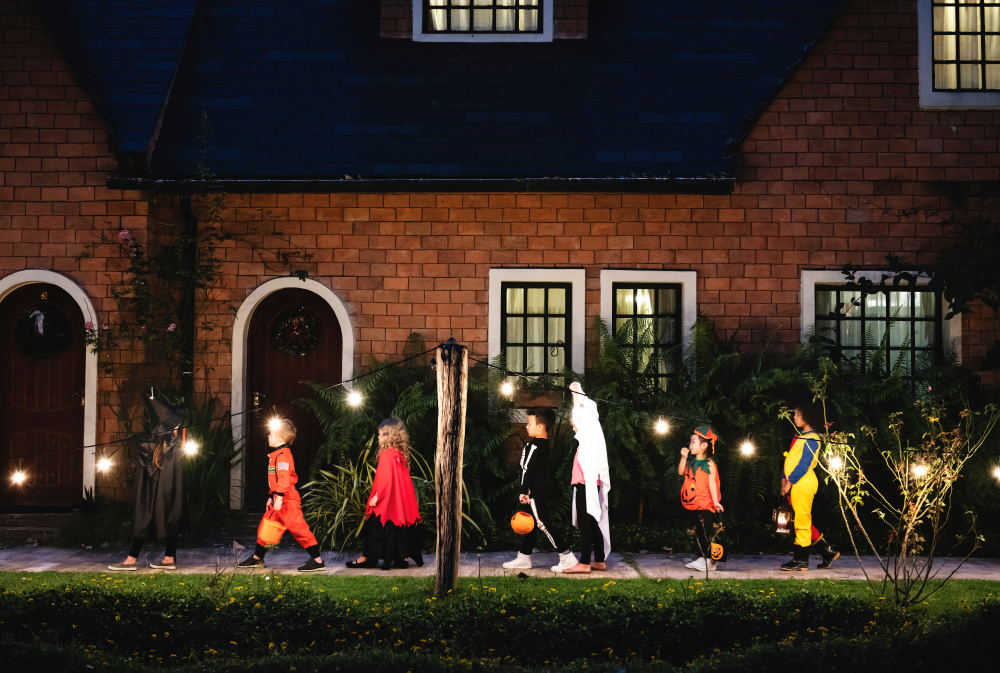 What if what was supposed to be an evening of fun quickly became scarier than those Halloween lawn decorations that pop up out of nowhere? At the end of October, holiday driving can be more terrifying than any spooky costume. That's because even though you can protect your vehicle with great automobile insurance, you can't always protect trick-or-treaters or even other drivers if you don't know what to do.
Want to learn more about Halloween safety and how you can avoid accidentally hurting anyone when you're behind the wheel? Keep reading to discover our top driving safety tips for Halloween!
1. Drive Slowly Even If You Don't See Anybody
Some of our tips are relatively simple but can nonetheless help you avoid frightful situations. For example, the single best trick to avoiding trick-or-treaters with your car is to drive slowly, especially in residential areas—even if you don't see anyone walking around.
Normally, drivers go through familiar neighborhoods at a steady pace unless they see someone walking a dog, taking out the trash, going for a walk, and so on. If you simply drive slowly for the entirety of Halloween, you can greatly reduce the risk of a pedestrian accident.
2. Prepare for Pedestrians to Enter the Road from Unexpected Directions
Speaking of both cars and pedestrian traffic, here's a related tip. When you're driving in residential neighborhoods, you need to assume that pedestrians will enter the road from unexpected directions, including walking out from behind parked cars.
Even if the road looks clear one moment, a kid or two could pop out from behind vehicles, alleys, or the woods at any moment. Again, we recommend driving as slowly as you reasonably can, even if you can't see anyone on the road when you first look out your window.
3. Keep the Music Low Enough That You Can Hear Pedestrians
Around Halloween, it can be tempting to pump some seasonal jams in your car. Whether you've got a custom Spotify playlist of your favorite spooky mixes or you're jamming out to the local radio station playing "Monster Mash," there is a lot to listen to as you drive around.
No matter what you listen to, though, make sure that you keep the volume relatively low. This ensures that you'll be able to hear pedestrians if they talk to you. In short, if you can hear the warnings from trick-or-treaters that you are dangerously close to hitting, you have a better chance of avoiding major injuries or property damage.
4. Turn Your Headlights on Early
Unless your car is using automatic headlights, there's probably a certain time of night when you consider things dusky enough to turn on your lights. However, take it from us: on Halloween itself, you should turn those headlights on much, much earlier.
Why is this important? While headlights improve nighttime visibility, many children and parents will be trick-or-treating before sunset. By improving your visibility that much earlier, you can improve trick-or-treaters' odds of seeing you and staying out of your way.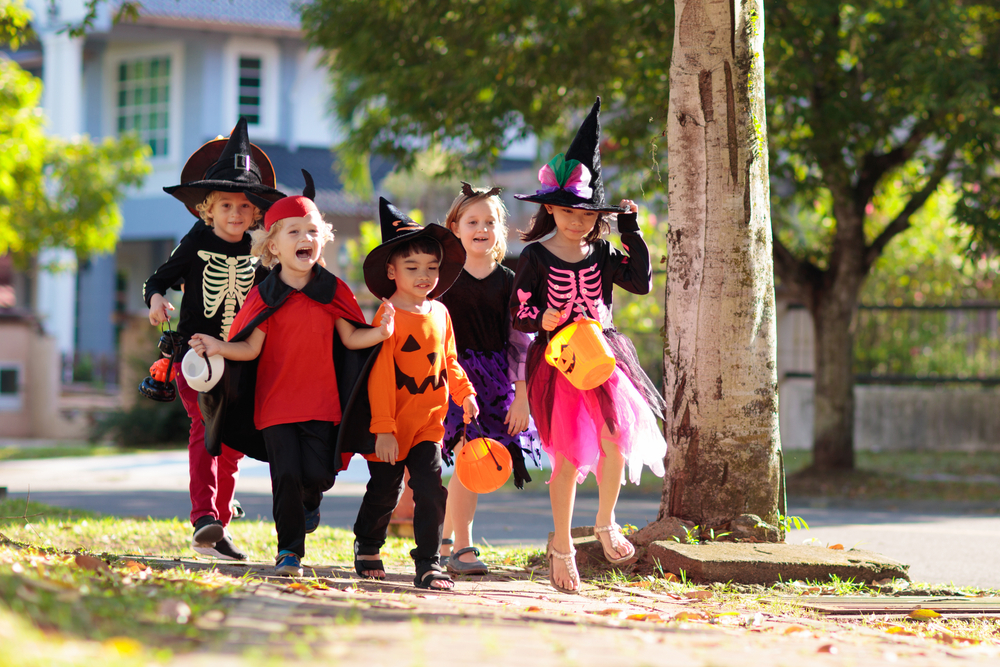 5. Be Careful Buckling Your Own Costumed Children
So far, we have focused primarily on how to avoid pedestrian traffic during Halloween driving. But you also need to worry about dangerous distractions inside the car, including from your own children.
Even if you have buckled your kids in countless times before, you need to be especially careful buckling them in when they are in costume. The costume may make buckling difficult, and the kids can get hurt if you must make any sudden stops. Taking a little extra time strapping them in means keeping your kids that much safer.
6. Yield to Pedestrians (Especially Children)
On any given day, it can be confusing to remember who has the right of way when it comes to pedestrians, intersections, stop signs, and traffic lights. So, when it comes to Halloween, we recommend keeping things nice and simple and just yielding to pedestrians all night long.
Little pedestrians are likely to be distracted, and the parents who may be escorting them can only watch out for so many threats at once. By driving slowly and yielding to pedestrians, you reduce the risk of an accident while also giving trick-or-treaters the peace of mind they deserve.
7. Ensure Your Own Costume Doesn't Affect Driving
Do you like to dress in costumes yourself? Whether you're into cosplay or just occasional costumed hijinks, Halloween is the perfect time to let your inner child come out and play. But you need to be very careful to ensure that your own costume doesn't negatively impact your driving.
Make sure you are fully buckled and that nothing (such as a big hat or a complex wig) is affecting your vision. Remember, it's always easier to put your costume back on once you arrive at your destination than to fiddle with it while on the road!
8. Back into Parking Spaces Where Possible
Our last Halloween safety tip for drivers is slightly unconventional but very effective. Basically, when you need to park in Halloween spaces, we recommend backing into them or otherwise making sure you don't have to put the car in reverse when leaving.
Why do this? While there won't be many trick-or-treaters earlier in the day, they are likely to come out in force at night. By ensuring you don't have to back out of a parking space during the busier part of the evening, you can reduce your chances of causing any major injuries.
Protect Your Car From "Bumps" in the Night All Year Long!
Now you know how to protect trick-or-treaters as you drive around on Halloween. But do you know who is here to keep your car safe all year long?
Here at InsureOne, we're all treat and no tricks, and we're ready to offer you the best car insurance at affordable prices. If you're interested, get a quote online. Of course, you can also pick up the phone and give us a quick call at 800-836-2240. Finally, feel free to come into one of our nearby offices at your earliest convenience!