Everything You Need to Know About Motorcycle Insurance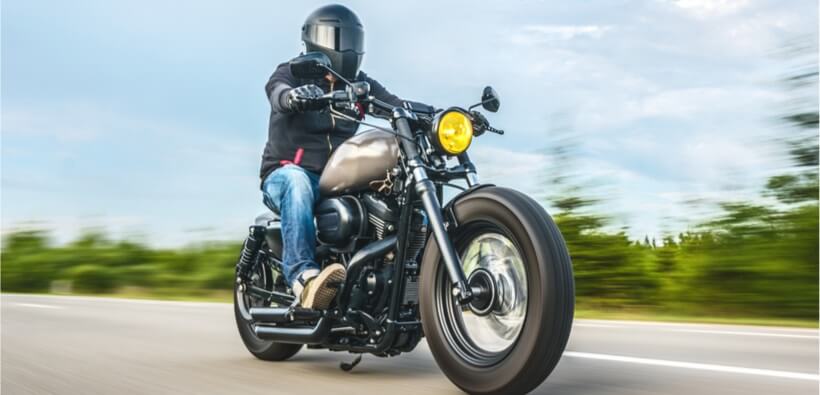 You know that you need to insure your car, but what about your motorcycle? Do motorcycles need insurance? Most states require people to carry motorcycle liability insurance to pay for damages caused to other motorists, but many motorcyclists choose additional coverage, as well. Depending on the coverage you select, motorcycle insurance can protect you, other drivers, and your investment.
Learn more about motorcycle insurance and get a quote.
Motorcycle Insurance Coverage Options
As with standard auto insurance, you have many options for motorcycle insurance. When you get a motorcycle insurance quote, the insurance agent can help you select the coverage you need.
Liability Insurance
Liability insurance is the most basic form of coverage. This coverage kicks in if you cause an accident, injure someone, or damage property while riding your motorcycle. Liability insurance will not repair your bike or handle your medical bills if you cause an accident.
Most states have minimum liability requirements, but the minimum is not enough. The minimum is often as low as $25,000 per person for bodily injury and $20,000 for property damage. You can expect to pay lots of money out of your own pocket if you cause an accident and only have minimum liability coverage.
Collision Coverage
If you are concerned about repairs for your bike in an accident, consider collision coverage. Collision coverage will cover damages from an accident, even if you were at fault.
Comprehensive Insurance
Unfortunately, damage can occur when you aren't riding your motorcycle. Someone might vandalize your bike, or it could get damaged in a fire. Comprehensive coverage pays for the damage your bike receives when you aren't riding it. Many motorcyclists like this coverage since it gives them peace of mind.
Uninsured or Underinsured Motorist Coverage
Sadly, some people don't have insurance, but that doesn't keep them from driving. If you're in an accident with an uninsured or underinsured motorist, this coverage will pay for any damages you incur.
Personal Injury Protection
Riding motorcycles can be dangerous. You could wipe out and incur some significant medical bills. Many motorcyclists choose to get personal injury protection (PIP) to cover damages if they're in an accident. PIP covers medical expenses and lost wages, as well as other damages.
Add-on Options
Motorcycle insurance companies offer some add-ons, as well. Consider these add-ons when getting a motorcycle insurance quote.
Accessory Coverage
If you've spent a lot of money on accessories for your motorcycle, consider accessories coverage. This coverage pays for items such as modifications, safety equipment, and custom paint if it's damaged.
Roadside Assistance
Roadside assistance is also helpful for motorcyclists. This coverage kicks in if you are stranded on the side of the road because your bike has broken down. The insurance company can deliver fluids and fuel or tow your bike if necessary.
Rental Coverage
If your bike is in the shop after an accident, you can rent another one with rental coverage. That way, you don't have to stop riding while you wait for your bike to get fixed.
Trailer Coverage
Do you use a trailer to transport your motorcycle? Trailer coverage protects the trailer in case of an accident.
Trip Interruption Coverage
Motorcycles occasionally break down away from home, and you have to spend time in another location. Trip interruption coverage will pay for your lodging and food while you wait for your motorcycle to be repaired.
Average Motorcycle Insurance Cost
Finding cheap motorcycle insurance isn't that different. It tends to be much more affordable than car insurance. The average motorcycle insurance cost is $702 a year, and many states sit below that average. For instance, North Dakota, Iowa, Wyoming, Nebraska, and South Dakota have rates that are at least 32 percent lower than the national average.
While motorcycle insurance is generally affordable, you can save more money by only getting liability coverage, although it's wise to get more than the state's minimum requirements. You can also save money by taking a motorcycle safety training class or getting a riders club membership. Also, installing a theft recovery system will reduce the amount you pay for coverage.
Lay-up Periods
You can also save some money on coverage by utilizing lay-up periods. Motorcycle insurance companies realize that many people don't drive their bikes during the winter since it's cold and icy. If you take advantage of the lay-up period, you cannot drive your motorcycle during the pre-determined months, but the insurance company will still cover you if your bike is damaged while in storage.
Get a Motorcycle Insurance Quote
Do you want to save on motorcycle insurance? Begin by getting a quote. A licensed agent will go over your options and provide you with a quote for the best motorcycle insurance for your needs. Then you can purchase your motorcycle insurance and enjoy extra protection on the road.
Get an obligation-free motorcycle insurance quote online or over the phone by calling (800) 836-2240.